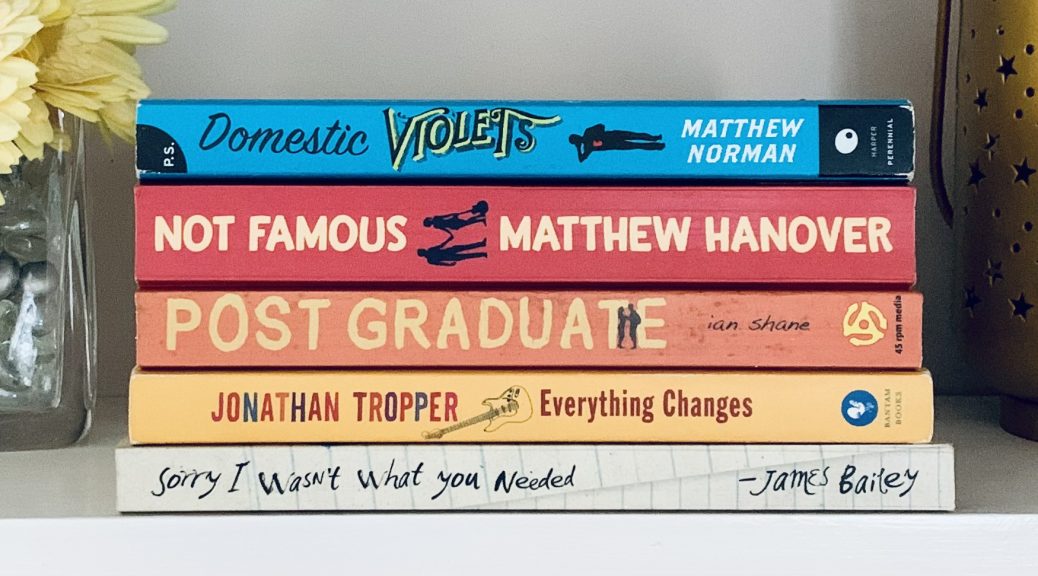 Some Books That Inspire Me
Some Books That Inspire Me
With my book coming out tomorrow, I thought it would be appropriate to pay respect to some of the books that inspired it. What I write is often referred to as "lad lit," stories about young men fumbling through their emotional and personal baggage. They're typically humorous, heartfelt, contemporary stories that are seen as the male equivalent to "chick lit," I guess. Whatever you want to call it, these types of books have shaped a lot of what I've set out to write myself, so I wanted to highlight some of my favorites and speak to what makes them so great.
I'm just going to list a few here, but if you're interested in checking out more, Goodreads has a pretty thorough list.
Domestic Violets, Matthew Norman
Set during the 2008 financial crisis, Domestic Violets focuses on thirty-five-year-old Tom Violet, who doesn't really like his job and whose marriage is on the rocks. Complicating matters further is his relationship with his dad, Pulitzer Prize-winning author Curtis Violet, and his burgeoning crush on a younger coworker. Things spiral out of control as Tom tries to make sense of this mid-life crisis of his, taking readers on a hilarious, cringeworthy, and earnest look at how messy and beautiful it is to be human. Norman's published three novels since Domestic Violets, all of which have a quirky, authentic sort of wit to them, but Domestic Violets has a special place on my bookshelf as the novel that made me want to write novels and understand the construction of them. The way Norman tells a story that's simultaneously funny and insightful makes for a fascinating ride.
This Is Where I Leave You, Jonathan Tropper
Author James Bailey wrote in his blurb for The Jackals that "the returning pariah is its own subgenre of coming-of-age story," and I think you can trace a lot of that subgenre back to this book. Judd Foxman's marriage is shambles when he finds out that his father has died, his last request being that Judd and his family sit shiva together. The family stumbles back together at their dad's dying wish, bringing to the surface old grudges, new surprises, and a circus of events and misfortunes that speak so truly to how messy a family can be. Tropper's published five other novels and written for TV and film (including an adaptation of This Is Where I Leave You), but this book is a great introduction to his work.
Not Famous, Matthew Hanover
I came across Hanover's work when he was blogging about the process of writing, editing, and publishing Not Famous. Hanover's done a ton when it comes to advocating for independent authors, especially "lad lit" writers, and his books provide the sort of clever, honest, intriguing take that so accurately defines the genre. Not Famous, the first in his Wallflower Series, focuses on Nick, who's recently proposed to his longtime girlfriend only for her to admit to cheating on him. This sends Nick's life into freefall until he meets Alli, an up-and-coming musician with whom he's immediately compatible. Alli has a secret, though, that tests their relationship and Nick's confidence. It's a stunning debut that Hanover's turned into an intriguing, insightful world in his two follow-up novels.
Sorry I Wasn't What You Needed, James Bailey
I came across Bailey's work after seeing this book compared to Tropper's This Is Where I Leave You, and I consider myself lucky I did. Like that book (and The Jackals, I suppose), the narrator, CJ Neubauer, finds out a loved one has died, forcing him to confront bridges he burned, feelings he bottled up, and relationships he neglected. What sticks with me about CJ, though, is his crassness and likability. There's a harshness to him, but it isn't off-putting. Instead, CJ is someone with whom you can empathize. You root for him even if he's kind of a jerk, which is difficult to pull off as a writer but so enthralling as a reader. I tore through this one in two or three days and was honored when Bailey agreed to provide a blurb for my debut.
Postgraduate, Ian Shane
Postgraduate might be the book that made me realize just how creative "lad lit" can be. It's a subgenre that can fall into tropes, but Shane breathes such life and creativity into this story that it feels like something new, fresh, and exciting altogether. Danny, the narrator, has lost his wife and found himself in a job he hates when a former professor reaches out to him to speak at his retirement ceremony. This sends Danny on a journey to reinvent his college radio station, return to his college town, and reignite his relationships with the friends he had there. The way Shane infuses his knowledge of radio with the experiences of love, loss, and regret is just a masterclass in how the unique lenses of our lives can be used to shine light on these more universal feelings.
These five novels—not to mention the others written by all of these authors—are so worth checking out next time you're looking for a new read. And, of course, don't forget that The Jackals drops tomorrow, January 11! It's available wherever you buy your books, including Amazon, Barnes & Noble, and your local independent bookstore.
* * *
P.S. I know the image for this post uses Tropper's Everything Changes instead of This Is Where I Leave You, but I learned today that I lost my copy of the latter. This makes me sad, but I suppose I'll recover next time I go to the bookstore.