The Jackals: A Novel
Jack Dotson finally has everything he wants: the promotion he's spent years working for, a house in a trendy neighborhood near downtown Louisville, and a future with Lauren, his stunning, smart, too-good-for-him girlfriend. Then he gets the call that his childhood best friend Mark has died, forcing Jack to do what he never thought he would: return to the sleepy, Midwestern hometown he ran away from years ago.
The plan? Give his condolences to Mark's family and make amends with the friends he left behind. Unfortunately, home isn't the place Jack remembers, blowing this to bits and forcing him to confront everything he ran away from. The best friend he betrayed. The girl who might have loved him. The town that's grown to hate him.
Determined to do right by Mark, Jack commits to attending the funeral and apologizing, but the results are disastrous. Fists start flying, old love interests reignite, and Jack's carefully curated life in Louisville starts slipping through his fingertips, leaving him to wonder who his true friends are and what he even ran away from in the first place.
Order from IndieBound  // Order from Barnes & Noble // Order from Amazon
Sportsman's Paradise: A Memoir of Grief, Brotherhood, and Big Buck Hunter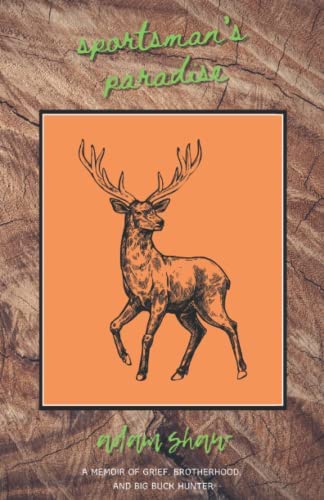 Adam Shaw was sitting in a neonatal intensive care unit holding his prematurely born daughter when his dad called to tell him his mom had overdosed and died. Six weeks later, he and his brother met up at a local arcade and played Big Buck Hunter, a childhood hobby that would reignite in the wake of their mom's death, spiraling into cross-country road trips, competitions on international leaderboards, and a place in the Big Buck World Championship. It was a ride they never saw coming but couldn't back down from.
The essays in Sportsman's Paradise trace the eighteen months between Shaw's mom's death and he and his brother qualifying for their first Big Buck Hunter pro tournament. With the popular arcade game as its backdrop, this collection offers a look into the complexities of sibling rivalry, the chaos of new fatherhood, and the burden of intergenerational trauma as they relate to the places in which we find comfort in the face of loss.
Order from Amazon